This year's AGM will be held on Wednesday 11th December in YAL headquarters. Notices of motion can be posted to the club or put in writing and handed in prior to the commencement of the meeting, as can any nominations for the 'committee'.
The new bridge has been installed at the Ward's Lane stretch, and the use of the temporary access route has been stopped. Many thanks to Lionweld Kennedy UK Ltd for donating all the materials, Tony Leeming for spending so many hours of his own time to do all the fabrication work, Phil Suddes for getting the bridge into position and to Dave Harris for ensuring that the bridge is fully "trolley friendly".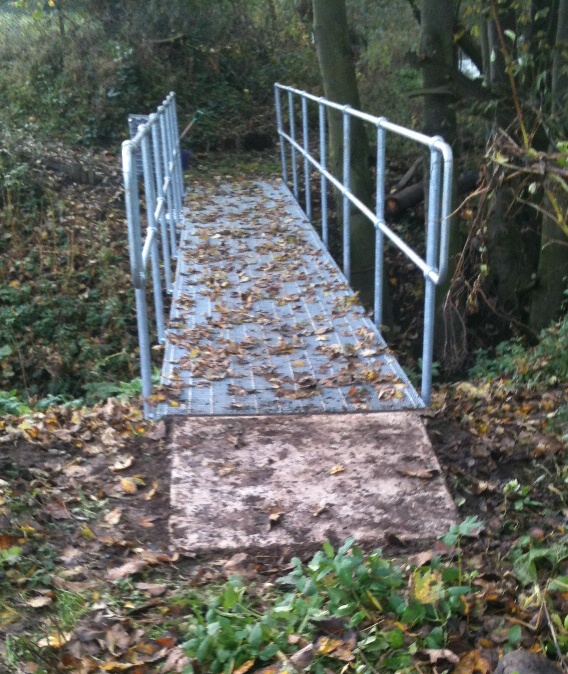 Yarm Angling Limited control over 5 miles of prime fishing on the River Tees around the historic town ofYarm, 1 mile of water on the Middle Tees at Bowl Hole (Low Middleton), and two stillwaters.
Much of this is available to fish on a day ticket, to be purchased from the clubhouse (open 7.00 p.m to 11.00 p.m. Daily) prior to fishing. Day tickets are only available for guests sponsored and accompanied by members.
We are also one of the few clubs in the country to have our own licenced headquarters, including meeting room facilities, which is open daily from 7:00 p.m.
There is no waiting list for new membership, follow this link for details of membership costs and how to join.
iF YOU WANT TO TEMPORARILY SUSPEND YOUR MEMBERSHIP FOR ANY REASON PLEASE CONTACT THE CLUB THROUGH LETTER OR EMAIL. THIS COULD AVOID YOU HAVING TO RE-PAY THE JOINING FEE IN FUTURE IF YOU DECIDE TO RENEW YOUR MEMBERSHIP IN THE FUTURE.
We have decided to reduce the re-joining fee for ex-members who did not renew their membership when it was due in 2010 or 2011 or 2012.This will be a rolling 3-year time period. If you fall into this category, you can now re-join the club for a reduced cost of £10 (instead of the normal joining fee of £36), plus current annual subs.
You can only re-join by going to the clubhouse to complete the necessary paperwork, and you must supply a passport-sized photograph. If you have still got your last membership receipt that would also be helpful (it will save us having to check several years membership lists).
To take advantage of this special deal, you will need to re-join before 30th September so don't delay.
See the about us page for more information about the fishing and social club.
If you are particularly interested in match fishing or the results of recent matches, see the
match scene page.
The results of the
most recent match are available here
and the
match calendar
contains details of all matches for the year. This is usually updated within a few days of each match.
The latest position (points and weights) for the club championship is available here.
Members of Yarm Angling Limited must also be members of the Association of Teesside and District Angling Clubs (ATDAC), giving access to a further 8 miles of Middle Tees water and a couple of stillwaters. YarmAangling Limited are also a member of the Lower Tees Angling Association (LTAA), with access to about 2 miles of the Lower Tees at Bowesfield. Note that this LTAA water is used for several small matches each year, click here for a list of dates.
The Angling Trust has launched a new web site for you and your fishing friends to record sightings of cormorants, goosanders and mergansers throughout the UK: www.cormorantwatch.org The new site is easy to use - it takes less than a minute to record your sighting.

Don't forget to bookmark www.cormorantwatch.org, keep your eyes peeled and come back every time you want to report a sighting.