Nine keen youngsters turned up for the first match in this year's series, and the match was effectively decided in the first 30 minutes when Jake Carter latched into a common carp of 13lbs 14ozs on feeder tactics form peg 15. Later he also had a skimmer and a few very small perch to top his weight up to 15lbs 7 oz. However, if Finley Basnett on peg 12 or Adam Hobson on peg 5 had managed to land the carp they hooked in the last hour of the match it might have been a different result.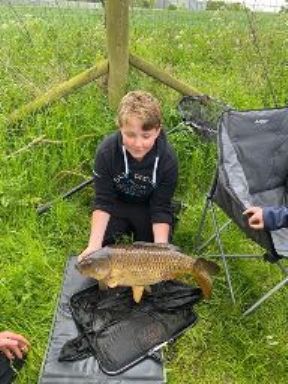 Second place was won by Ted Wood, who fished peg 1 for a total weight of 6lbs 5 ozs which included the biggest bream of the day at 3lbs. That was backed up by a mixed net of skimmers, roach and perch mainly caught on a whip.
Third was Jenny Breeze, with 5lbs 13ozs from peg 10. She had a bream of 2lbs 15 ozs, several other skimmers plus a few roach. Jenny minly fished a feeder.
Finley Basnett again fished mainly a feeder, and had several skimmers in his net of 3lbs 13 ozs but lost a carp with about an hour to go.
Newcomer Elijah Macauley fished a whip on peg 16 for 2lbs 11ozs from peg 16, which was a very good performance. and included the biggest roach of the day at 5ozs.
Daniel Blythe had several skimmers on feeder from peg 4, but they were all quite small and he was only able to put 2lbs 5ozs onto the scales for all his efforts.
Elijah 's brother Samuel had 14 ozs on a whip from peg 11, although he spent some time fishing a feeder but with no luck.
Sebastian Boyer put 5 ozs of small perch and roach into the scales net, but this would have been quite a bit more if hehad repaired a hole in his keepnet before coming to the match.
Adam Hobson had little succes on a short pole line for perch and roach, so spent his time trying to tempt carp into the margins with steady loose feeding. Eventaully he had a couple of bites, missing one and then losing a good carp in the last half hour of the match. He had to be content with the prize for the biggest perch of the day - 2.5ozs.