A nice sunny day with a light north-westerly wind was forecast, and it turned out that way so the 7 juniors who fished the latest match had a pleasant day.
Winner on the day was Ted Wood on peg 15, with a total weight of 18lbs 9ozs. His biggest fish was a beautiful common carp of 10lbs 4ozs. He caught this on feeder tactics which also saw him adding a bream of 2lbs 11ozs, plus a few skimmers, roach and perch.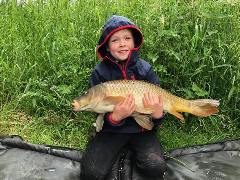 In second place was Alex Metcalfe, with 6lbs 6ozs of skimmers, roach and perch from peg 12.
Rose Hutchinson fished a feeder from peg 16 for a total weight of 5lbs 1oz, which included a perch of 1lb 9ozs caught on worm. She also had a few small skimmers, perch and roach to take her into third place overall.
Daniel Blythe fished peg 10 , mainly concentrating on feeder tactics hoping for bream, but only caught a few small skimmers, perch and roach for a total weight of 3lbs 14ozs.
Holly Hutchinson shared peg 16 with her sister Rose, but concentrated on fishing maggot or caster on a short whip rig and caught2lbs 2ozs of small perch and roach.
Deacon Porter fished peg 11, mainly on a short pole line with maggot as bait. As he wasn't getting many bites a switch to corn eventually brought him a few roach, the biggest of which weighed 4ozs and won him the heaviest roach prize.
Jake Carter tried hard to repeat his previous win, by fishing most of the match on a feeder rig from peg 14. However this didn't work as well in this match, and he finished the match with just 7ozs of small perch caught on a short pole line and maggot.