Five brave junior anglers braved a very poor weather forecast to fish the third in this series of matches, and unfortunately we had to shorten the match because of a combination of continuous light rain interspresed with heavier showers, and the poor fishing.
Nevertheless, Jake Carter was jubilant in winning his first match with 25 small perch (largest 6ozs) and roach (largest 2ozs) on maggot or small pieces of worm for a total of 1lb 6ozs from peg 26. The day could have been a really red-letter one if the large eel (estimated at 5lbs+), which he hooked while fishing a small piece of worm on an elasticated 4m whip, not made it to the sanctuary of the tree to the right of his peg. It took him quite a while to calm down from "what might have been".
Second was Connor Dixon, who failed to tempt any bream or carp on feeder tactics from peg 37, but a switch to a waggler and maggot brought him a 7ozs 8drams perch and a tiny roach for 8ozs.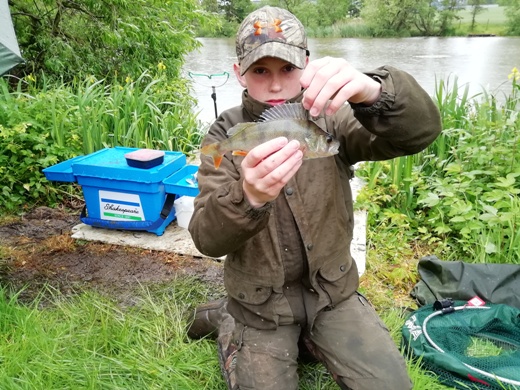 Third was Ewan Lowther with 5ozs from peg 38, on pole and maggot approach. His largest fish were a 2 ozs roach and a 2ozs perch. Ewan lost a carp (estimated at around 10lbs) in the second half of the match.
Fourth was Becky Wood with a single small perch of 8drams on maggot on a whip. She had tried the feeder for nearly all the match and failed to get any interest form bream or carp.So a late switch to the whip brought her the tiny perch, and the next bite she got was from a large common carp (estimated at well into double figures). For a while it looked like she mght get it in, but as it came past her one time it dived under the platform and that was the end of an exciting few minutes.
Scott Lambert tried everything he could think of on peg 30, but just couldn't get anything.